Coaching
The club offers tuition with qualified LTA (Lawn Tennis Association) coaches either through group sessions or private lessons to adults and juniors. Please contact Matt directly if you are interested.
Junior Summer camps
Matt is running junior summer camps in August this year as per below.
Camp A1 10th & 11th: 9am-10:30am Camp C1 10th & 11th 10:30am - 12pm
Camp B1 13th & 14th: 9am - 10:30am Camp D1 13th - 14th 10:30am - 12pm
Camp A2 17th - 18th: 9am - 10:30am Camp C2 17th - 18th 10:30am - 12pm
Camp B2 20th & 21st: 9am - 10:30am Camp D2 20th & 21st 10:30 - 12pm
Camp A is for school year 3&4
Camp B is for school year 5&6
Camp C is for school year 7&8
Camp D is for school year 9&10

Parents will book by which school year their child will be entering in September.
Members £15
Non Members £20
Spaces are limited to 10 per camp.
To book, please email mattelston-ace@hotmail.com an application form will be sent with the relevant up to date Covid info and your booking confirmation.
Junior coaching
Saturday mornings junior lessons start at 12.30pm and are split into two groups as follows:
Ages 5-11 12:30 - 13:30
Ages 12+ 13:30 - 14:30 27th April - 13th July. Members £4, non members £5/session.
Summer camp for Juniors (6-13 y/o) 13th - 15th August 9.30am - 11.30am (sign up no later than 14th July for the week). £25 members (£33 non members)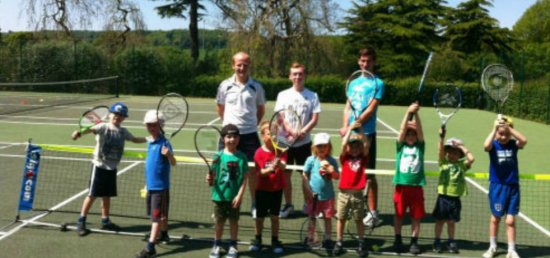 RED - For beginners aged 6-8 years and who wish to start learning tennis. Sessions will cover basic co-ordination, racket and ball skills and various fun games – the emphasis is very much on FUN and skill learning. They will be introduced to the basic strokes to play the game, and will continue to build on their athletic, balance and co-ordination skills.
ORANGE - For beginners aged 8–10 progressing from Mini Tennis Red, who have developed their skills sufficiently to move onto a modified size court with low compression balls. Equipment, court size and rules are adapted to cater for the players' ability. Sessions will cover co-ordination and movement exercises, basic rules, technique and tactics of the game.
GREEN - For beginners aged 10-12, who have progressed through the lower levels. Sessions will focus on developing technique on all strokes and explore tactical situations incorporating a games based approach to enhance new skills and extend learning. Sessions will build on all aspects covered in Orange with more drills and match play.
JUNIOR CHALLENGE - For Intermediate level 11–16 year olds, who have completed the Mini Tennis Green. They must be able to maintain a groundstroke rally from the baseline, be able to serve over arm and play a game of singles/doubles. Basic knowledge of the rules is essential. Sessions will include technique and tactics incorporated within drills and games. This course is intended for players who wish to play in tournaments and gain an LTA rating. We will be looking to run a fun tournament within the group every 2-3 months, with results being sent off to the LTA which will go towards their player rating!
Contact the coach for lessons
Our club's head coach is Matt Elston. Matt is a fully qualified LTA licenced Club Coach and has over 10 years experience playing in many county tournaments.
T: 07894 330 695
Was this page useful?