Temporary Social Session Rules
From Wednesday the 2nd of December, 2020, all of the regular adult social sessions will return. Along with the
temporary club rules
, the following rules for the social sessions must be followed to keep play safe and follow government guidelines.
1.
All adult social sessions
return as of Wednesday the 2nd of December - Junior social sessions remain suspended.
2. To play,
you must check-in on the Social Check-In WhatsApp group
when you arrive so that we can contract trace if needed and monitor numbers. If you are not yet a member of the Social Check-In WhatsApp group, ask to join via the main Greville Social WhatsApp Group - An invite link can be found at the bottom of the email you received when you purchased your club membership. If you are unable to use WhatsApp, you must ask someone else to check you in.
3.
Max 8 people in the courts
at any time, all those not playing must wait outside of the court and remain socially distanced.
4.
Sanitize your hands
before entering and leaving the courts every time you do so, not just the first time you play.
5. Don't play if you have symptoms,
be responsible
.
6.
Be considerate
of those who have not managed to play as much as you during busy social sessions, please do not "hog" the sessions if others have not played. 7.
Do not sit on the bench
- If you are not playing, please fully leave the court and remain socially distanced.
While there are no strict upper limits on the number of people that are waiting outside of the court, please use common sense and disperse if the group becomes too large.
Sessions will be monitored for numbers and the above rules are subject to be reviewed. If you have any feedback or concerns, please email.
Enjoy the sessions, we hope to see you soon!
GSTC
Social Tennis
The club holds occasional one-off social events (tournaments, nights out...) throughout the year, and notice of these is given on the home page.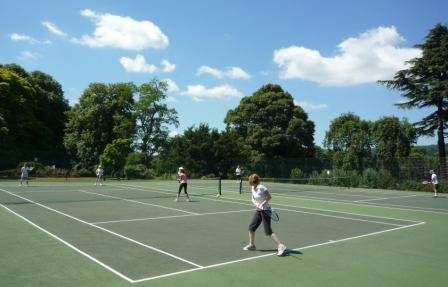 Adult social tennis sessions
When you are a newcomer to the club, these sessions are the best opportunity to meet some other players and have a friendly game of doubles.
Tuesday and Thursday evenings 6pm to dark (April-September)
Saturday afternoons 2:30pm to 4:30pm (all year)
Sunday mornings 11am to 1pm
These casual and friendly sessions are a good way to meet other members and play some relaxed social tennis. The club system, to avoid long waits, is to play four games and a short (first to 7) tie break (first to 5) only if 2 games all (Tuesdays) or five games - sudden death deuce, except for long deace in fifth game), (in all other sessions).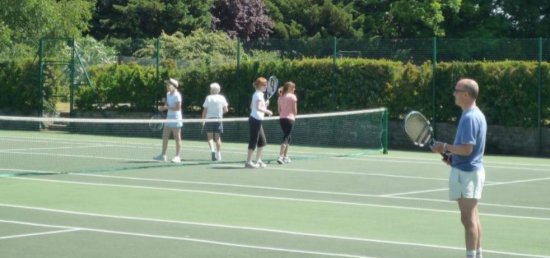 Invitation competitive adult tennis matches
If you are ready to take it to the next level - and don't want a lie-in! - you may be interested in playing a full, competitive doubles match.
Sunday mornings 9am to 11am (max. 8 players)
This is the only session other than team matches and team practice where there is a minimum standard. The aim is to complete a 3-set match, or as much of one as you can in 2 hours. Constraints of court space and time necessitate rotation of players from week to week, but anyone who meets the standard is welcome to join the pool. If you come along a bit early for the social session, you can see what the level is and then have a hit with some of the competitive players after 11am. Speak to someone in the group to assess if you are of the appropriate standard. There is always someone at the friendly social tennis adult sessions who can point you in the right direction.
Junior & family social
Saturday mornings 9am to 11am
An opportunity for families and juniors to play together.
Junior sessions
Mondays, Tuesdays & Wednesdays 4pm to 6pm
Please note if any of these sessions are not being used, or are only used on one court, the other court is still free to use, though priority remains for the specific sessions.
Was this page useful?